Rose Dunleavy, the late mother of Governor Mike Dunleavy, was a political powerhouse in Democratic and Union politics in Scranton, Pennsylvania during the 1970s and 1980's.
Mike Dunleavy (who is a resident of Wasilla in the Mat-Su Valley) has described his parents, Edward and Rose, as pro-Union, FDR Democrats. Edward worked for the United States Postal Service and Rose was a City Hall clerk and secretary. They raised four boys; Mike was their youngest.
In an article run by the Associated Press after his election to the Governorship, Dunleavy praised his parents and stated that his father urged his boys not to complain but to "get involved" and he described his mother as being involved in "low-level politics" in his hometown of Scranton. https://www.adn.com/politics/2018/10/22/gops-dunleavy-campaigns-as-a-budget-hawk-and-tough-on-crime/
However, it seems that Gov Dunleavy may have downplayed his mother's political activism. Rose Dunleavy (note that Gov Dunleavy's wife is also named Rose), was actually quite involved in Democratic politics in Pennsylvania for many years. She attended the Democratic National Conventions in 1980 and 1984 as a delegate. And she was even a member of the national DNC Rules committee in 1984.
Rose Dunleavy's Democratic and Union political activism is somewhat ironic given that Mike Dunleavy is a very conservative (and some say anti-union) Republican Governor. (However, it should be noted that the Dem Party has veered way to the left in recent times, so it is not really the same party of FDR, JFK or even Jimmy Carter.)
Here are screen shots from newspaper articles from the Scranton Times-Tribune from the 1970s – 1990s which feature Mrs. Rose Dunleavy. It is interesting to note that, like her son, she had some hard-fought political battles.
In 1974, she won a slot as a Pennsylvania Democratic State Committee Member. (Scranton Times-Tribune article 22 May 1974.)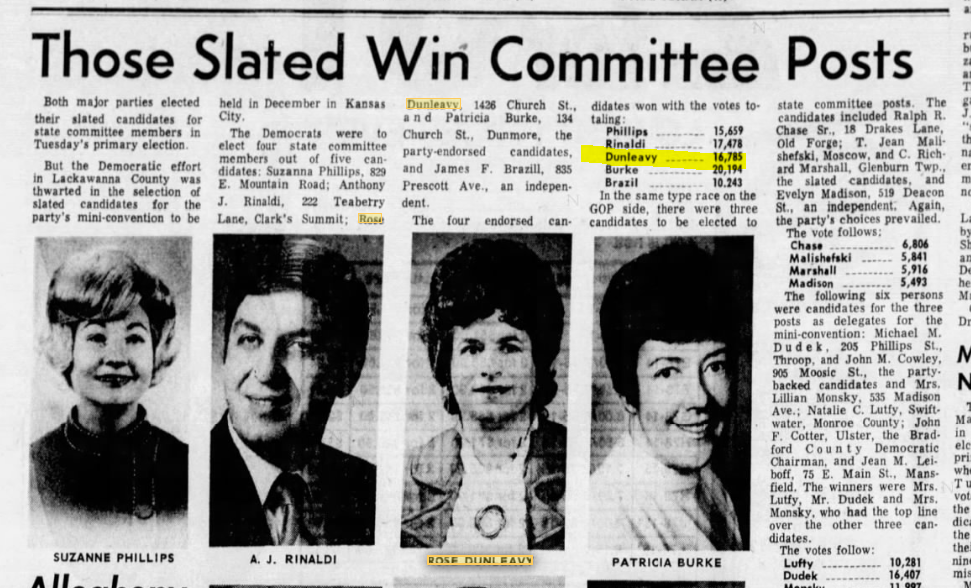 In 1975, Mrs. Dunleavy claimed that she was duly elected to but unfairly denied the position of Democratic Party Ward Chairperson for North Scranton's Second Ward. (Times-Tribute Article dated 21 Feb 1975.)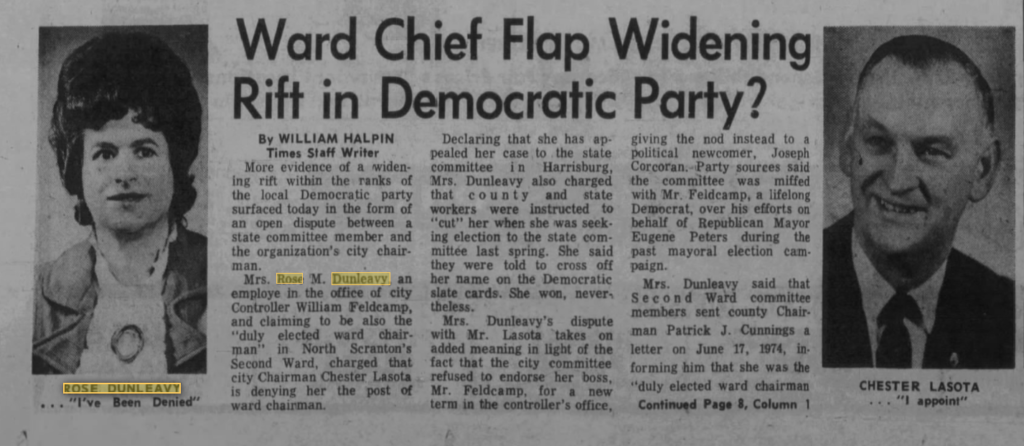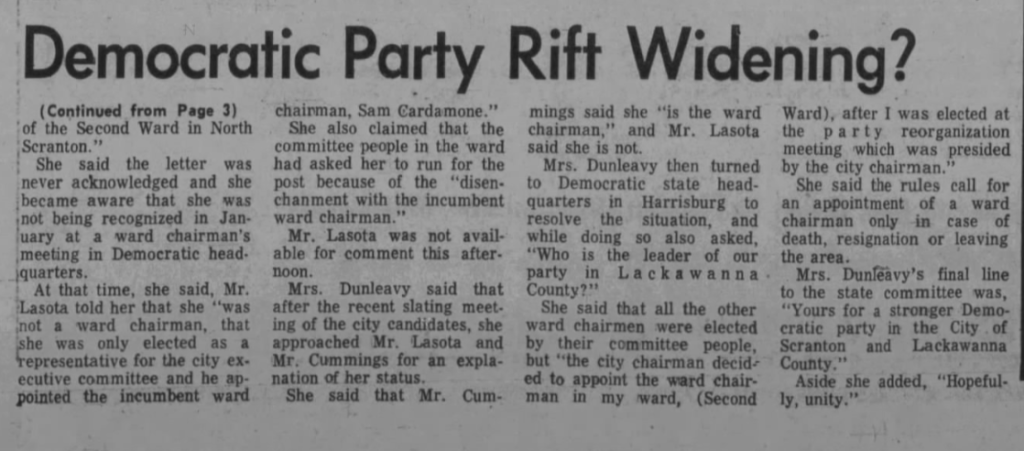 Mrs. Dunleavy fought back and won a seat again on the State Democratic Party Committee in 1976.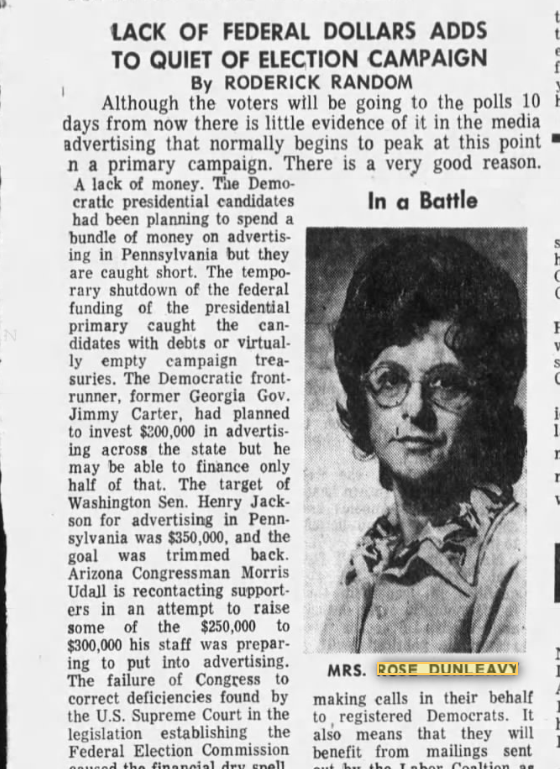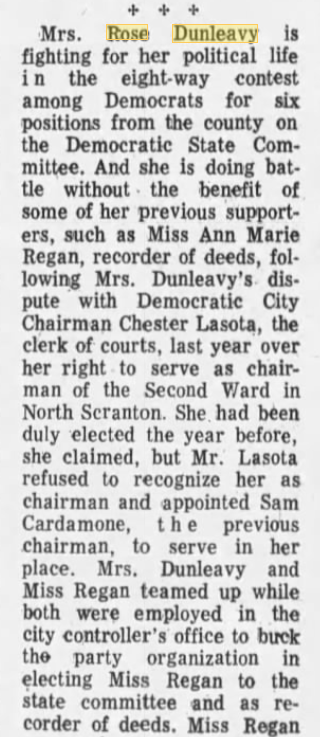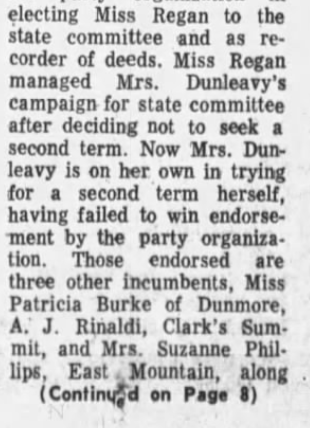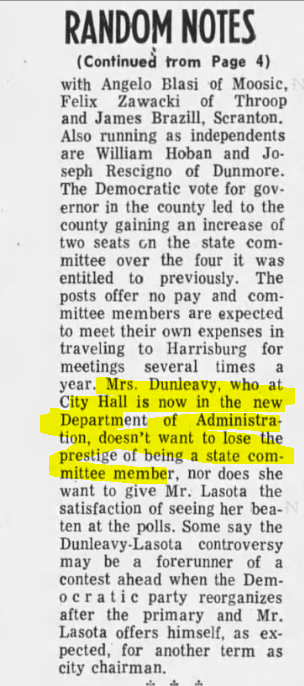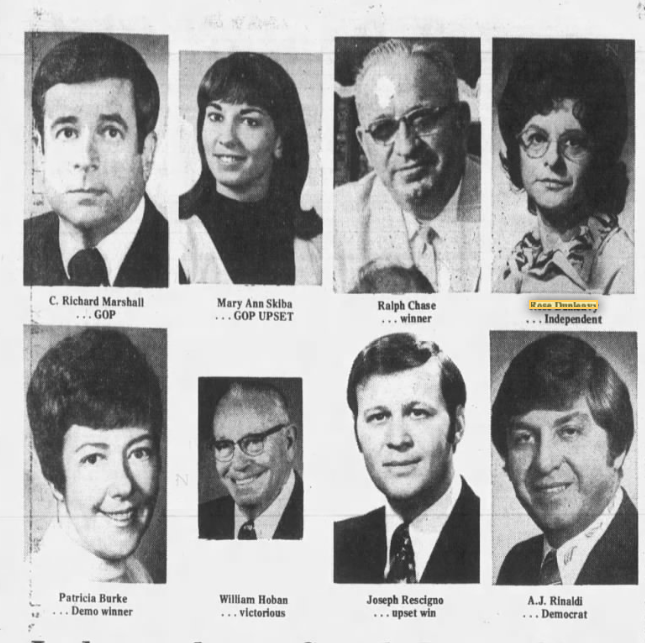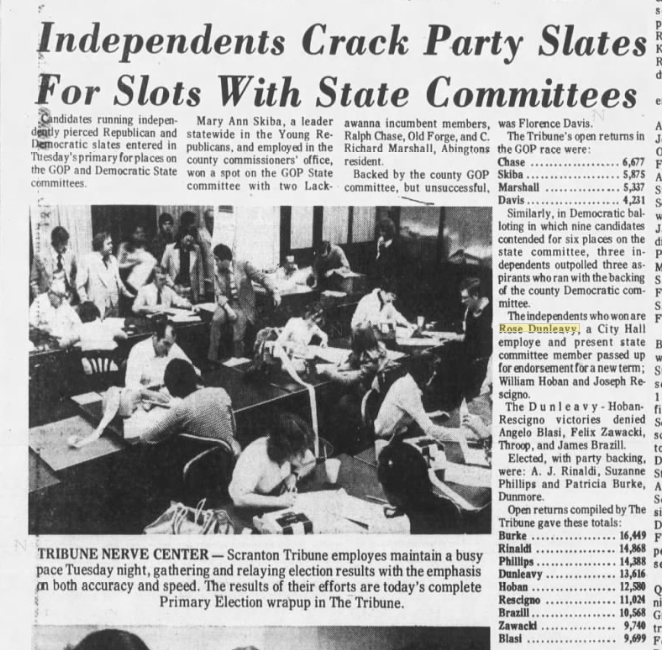 Mrs. Dunleavy attended the DNC convention in NYC in 1980 and even participated in a walk-out protesting the nomination of President Carter. (She must have been a Ted Kennedy supporter. "The Dream Shall never Die" speech he gave at the '80 DNC convention is rated as one of the best political speeches of all time.)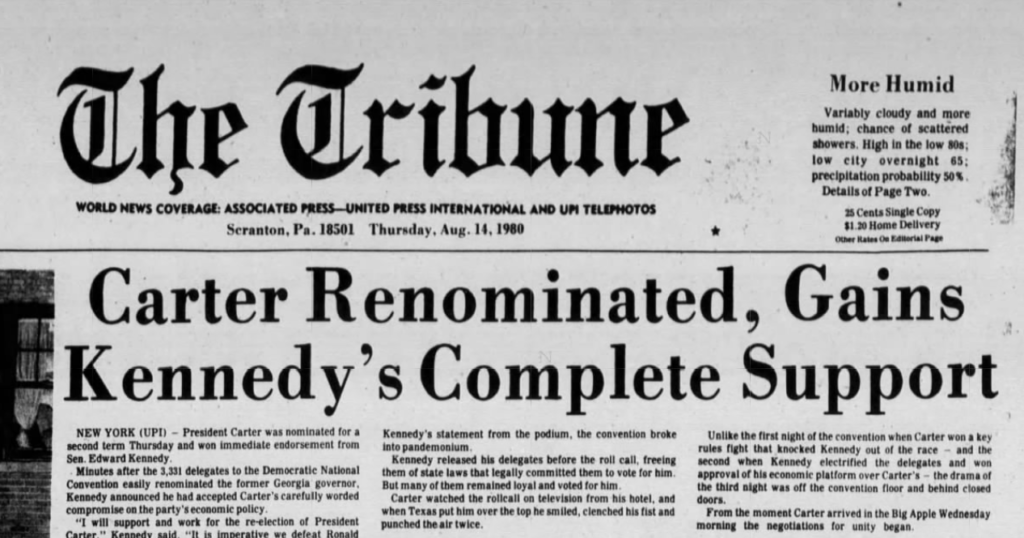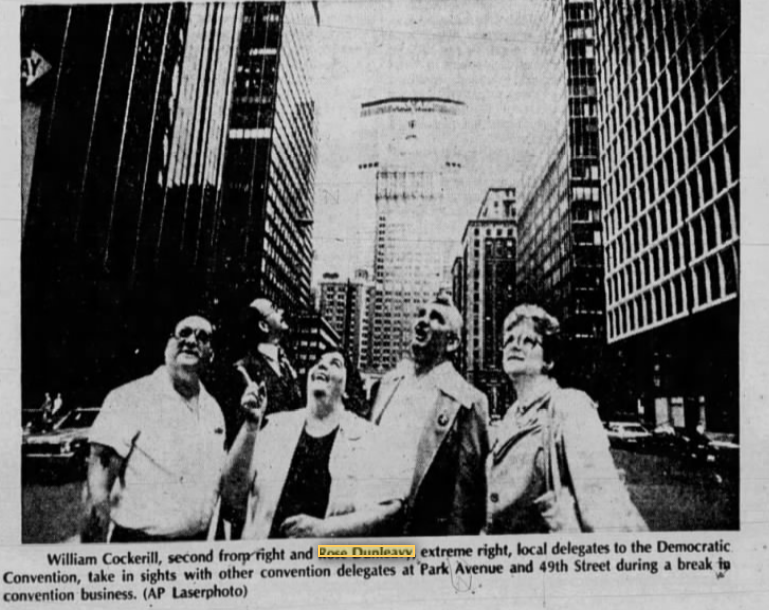 She attended the 1984 Democratic National Convention in San Francisco. And, prior to attending the convention, she traveled to Wash, DC to participate in the Rules Committee.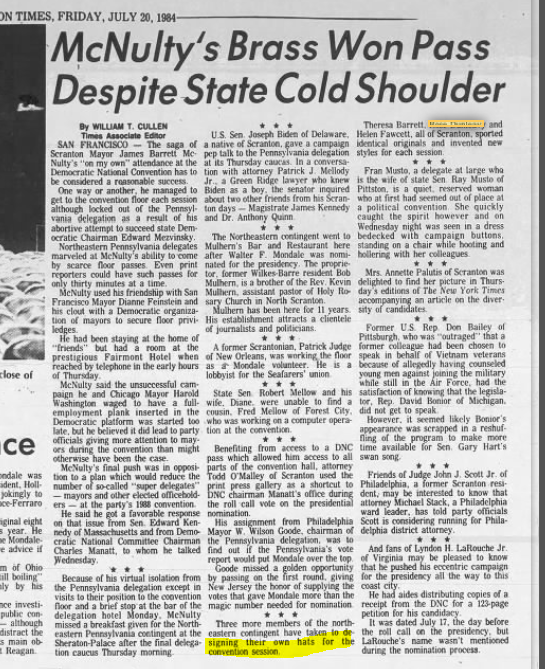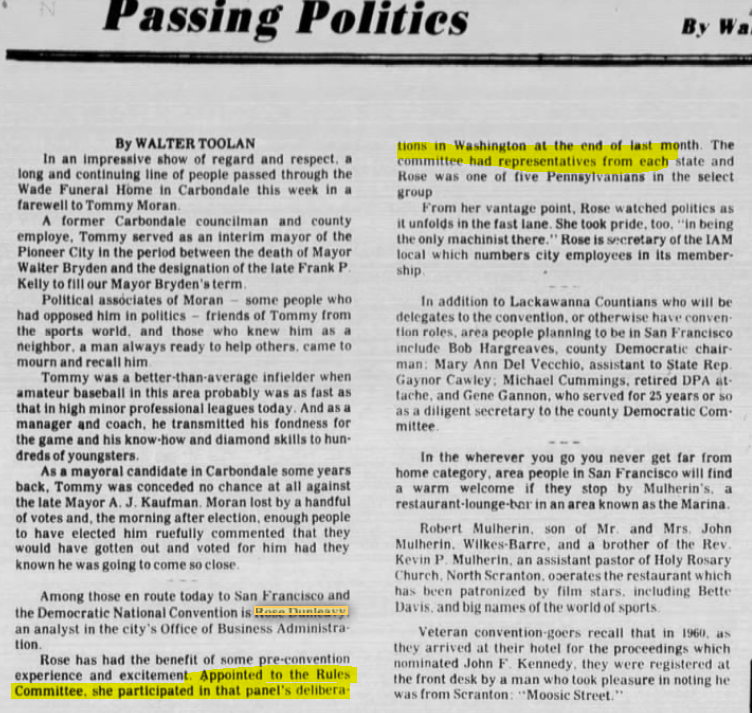 Mrs. Dunleavy continued to stay involved in Union affairs during the late 1980s and early 1990s.

And she won the United Way Labor Award in 1994:

She retired from the City of Scranton in March 1990: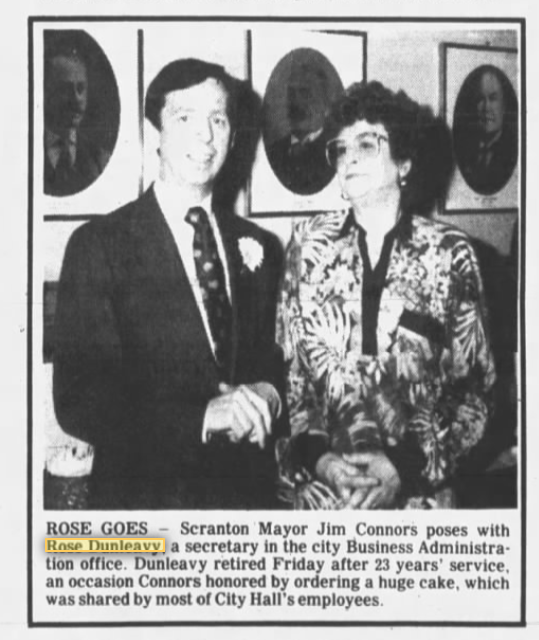 Footnote: What was Mike Dunleavy doing during his mother's political heyday?
Playing basketball on his high school and college teams. Central High School in Scranton and College Misericoria in Dallas.
Article from Times-Tribune dated 21 Jan 1979: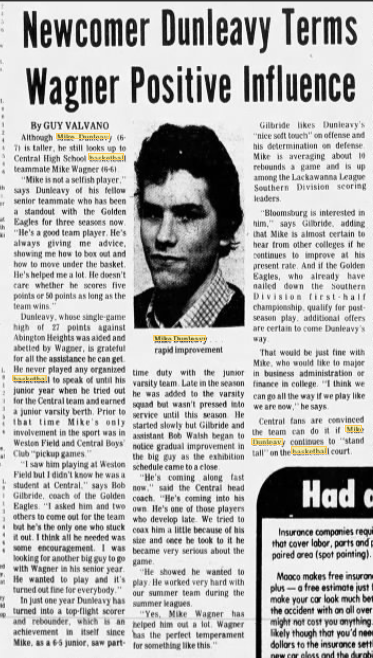 WAIT – DID YOU ALL CATCH THAT LAST PARAGRAPH?!! "STAND TALL" WITH Mike?!!