Iron Horse Run, a proposed new subdivision, is on the agenda of the upcoming Platting Board meeting.  The meeting is June 6, 2019.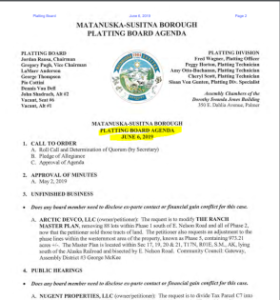 This is land that is currently owned by the Alaska Mental Health Trust.  It is over three thousand acres total and the Rail Spur goes through it.
IMPORTANT NOTE: On the Platting Board Meeting agenda summary page and in the MSB's "Request for Comments," the MSB mistakenly listed the acreage as 168 acres. That is only the acreage for the rail corridor itself.  The actual subdivision plan contains 3,100 acres. This is quite a big mistake. Perhaps the Requests for Comments should be re-mailed with the correct information.
The proposal is for the current owner – the Alaska Mental Health Trust – to subdivide this land into 31 parcels and then transfer it to the Mat-Su Borough.
Note that the survey work was done by SurvBase which is the MSB's longtime contractor for Rail Spur/Property/Surveying work.
WHAT IS THE MAT-SU BOROUGH PLANNING TO DO WITH THESE PARCELS? 
What is the real plan here? Does this new subdivision have anything to do with the A2A bitumen shipping project which is currently being negotiated behind closed doors? (At this week's Assembly budget meeting, both the attorney and the manager mentioned that there is a team of MSB staffers working on the proposal now. They implied that this project is taking up a lot of time etc.)
Is the Mat-Su borough public going to be railroaded again?  Is the MSB planning to sell or lease the "Iron Horse Run" land for some type of industrial use? Shouldn't the Platting Board and residents of the area be fully informed before the new plats are approved?
The Mat-Su Borough is asking the Mat-Su Platting Board to approve several variances.
The MSB throughout the paperwork states that the "future use of the parcels is not yet known.." but does anyone really believe this? 
UPDATE: I asked a person who is very knowledgeable about MSB real estate and plats and this person said that they do not believe the MSB has set up anything else like this before along the Rail Corridor.