Mat-Su Borough Assembly member (and Deputy Mayor) James "Dan" Mayfield was determined to do away with the newly proposed "strong mayor" ordinance at Tuesday night's MSB Assembly meeting (May 5th 2020.)
NOTE: Mayfield has represented Big Lake, Settlers Bay, Knik and Pt Mac since 2014. He is termed off the Assembly this fall and is currently running for State Senate (District D).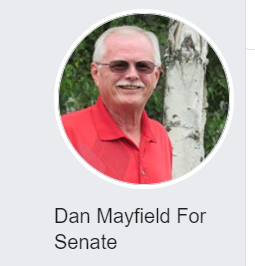 Assembly members Jesse Sumner and Ted Leonard co-sponsored the proposed "Strong Mayor"ordinance which is numbered OR 20-046.
This proposed ordinance was on the agenda of the May 5th Assembly meeting under "Introductions." A public hearing on this ordinance was expected to take place (per the usual procedure) at the May 19th Assembly meeting. This ordinance, which was originally posted on the MSB's website on April 27th, was also mentioned and briefly commented on by various Assembly members at last week's (April 30th) Special Meeting on the Budget. At the April 30th meeting, Mayfield and Halter expressed their shock and dismay that this ordinance had been proposed.

The Ordinance, if passed, would place the issue of a Strong Mayor vs. a Manager form of Government on the Fall 2020 Ballot.
If the Ballot Measure is approved by the voters, instead of the Assembly members hiring a Manager to run the MSB, a full-time Mayor would act as the MSB manager. Anchorage and Wasilla have full-time managerial Mayors. Here is the Informational Memo explaining OR 20-046.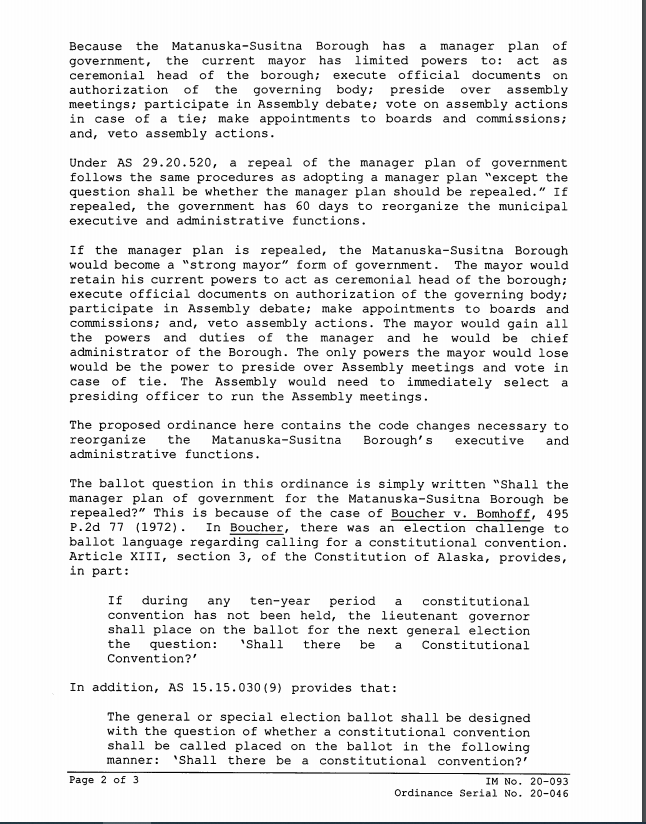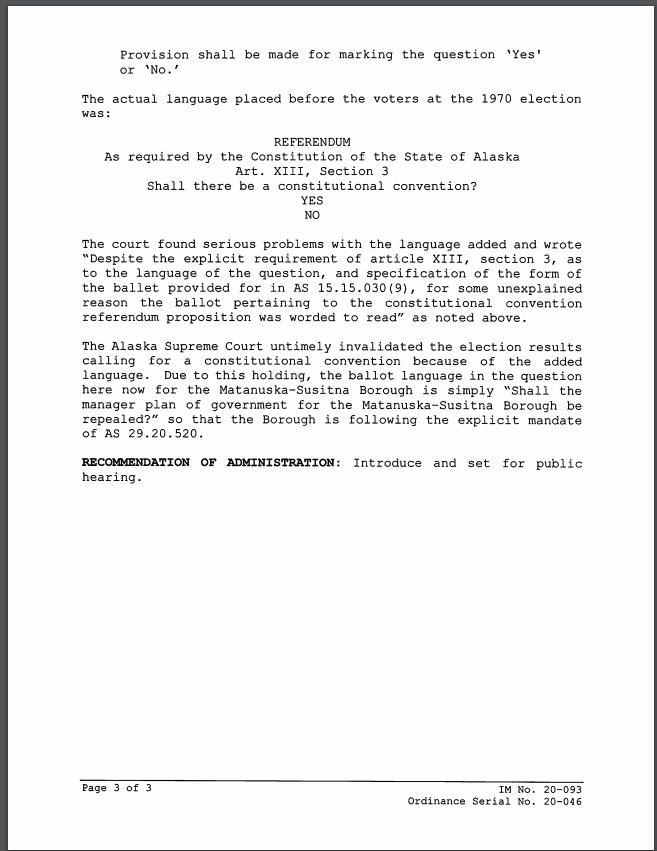 Assembly Member Mayfield first tried to remove this item from the Agenda entirely.
At the very beginning of the meeting, Mayfield asked for Ordinance 20-046 to be removed from the agenda. Meaning, he didn't want to allow Sumner and Leonard to introduce the legislation at all or to have any Assembly debate on it at a later meeting. He just wanted it killed.
Mayfield claimed the timing was wrong and that the Mayoral position wasn't up for election until Fall 2021. He also said that the Assembly was busy with the budget and that the Covid pandemic was ongoing etc.
So, the Assembly members thus had to discuss and vote on whether or not to remove the item from Introductions/the agenda. They were not allowed to discuss the merits of the ordinance itself, just the motion to remove, which was difficult to do because all the arguments – especially the timing issue – overlap.
Assembly members Sumner and McKee strenuously objected to Mayfield's strong arm tactic. "By pulling it off the agenda, you are not allowing any debate on it" said Sumner. "Why prevent a debate?"
NOTE: It is very unusual (and bad form) to try to remove another Assembly member's proposed Ordinance from the agenda and not allow it to be introduced and not allow any debate on the merits.
A vote was taken and the result was a tie vote. Voting with Mayfield to remove the proposed ordinance permanently were Stephanie Nowers and Tam Boeve. George Mckee, Tim Hale, and Jesse Sumner voted NOT to remove the proposed ordinance. Ted Leonard was a few minutes late for the meeting, so he missed the vote by mere minutes. Mayor Halter chose to break the tie and he voted NO – meaning he supported keeping the ordinance on the agenda for Introduction. After he announced his vote, Halter noted to the others, "Surprising, isn't it?" re: his action. (This is true – his vote was a bit surprising – as Halter, Mayfield, Boeve, and Nowers – the liberal contingent – usually vote together (Halter as mayor only votes when there is a tie) while McKee, Leonard, and Sumner – the conservatives – also usually vote the same way. Hale is often the swing vote.)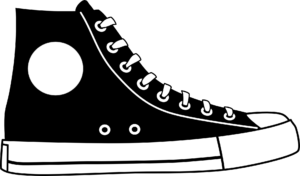 Later during the meeting, Dan Mayfield again tried to kill the "Strong Mayor" ordinance- this time using a sneakier tactic:
When the Assembly got to the section of the agenda with all of the new legislation set for "Introductions," Mayfield moved to remove the "Strong Mayor" item from the others ("dividing the question"), approve the other items for Introduction and set all those for Public hearing for May 19th, but set the "Strong Mayor" item for Public Hearing on September 15th.
Mayfield gave a lengthy argument about timing, the Covid Crisis, the need for a full debate on this proposed government change, lack of public participation right now, etc. He said (paraphrasing): Let's get through the budget and the summer first and have this important debate in September. He also – but ever so briefly and buried in his arguments – noted that by taking this up after August, it would be past the deadline for the fall ballot – but he chose his words carefully so that this KEY POINT – was missed by most. Mayfield said things like "We would still be able to send it to the voters" etc. So, what Mayfield was really trying to accomplish – making the public hearing date so late as to miss the Fall Ballot deadline – was not highlighted.
Jesse Sumner objected to Mayfield's new motion, stating that, "It is abusive to propose such an action that is the exact same thing that was just defeated a bit ago...There is no reason not to schedule a public hearing (in a timely manner.)"
George Mckee argued that delaying the public hearing so more people could participate in a public hearing made little sense as hardly anyone participates in Assembly public hearings unless the issue is MARIJUANA or GUNS. (LOL – this is true but McKee forgot one other "hot button" issue – school funding. People – mostly teachers – also come out to testify in droves on school budget issues.)
Anyhow, first the Assembly did vote to divide the question, so they could take up the "Strong Mayor" ordinance separately.
Then Mayfield moved to set the Public Hearing for mid September and made his lengthy "timing" argument again. He claimed that we were hiring a new manager now but the mayoral election wasn't until Fall 2021. He went on and on about wanting a "full discussion" about this important "strong mayor" issue but he didn't want the discussion done "in the dark of night" like the School Board's recent book ban. (It is strange that he claimed the school board vote which was noticed up and taken at a public meeting was done in the "dark of night.")
After Mayfield's speech, it seemed to dawn on Mayor Vern Halter that the September date meant that this Ordinance, if passed, wouldn't make it onto the Fall 2020 Ballot. Halter clarified this with the Clerk. She confirmed that the Ordinance would have to pass by late August to make the ballot. The final Assembly meeting before the deadline is August 18th. Mayfield then more fully admitted that is what he was trying to do – remove any possibility of this item making it onto the Fall 2020 ballot.
Jesse Sumner commented that the timing of the "strong mayor" issue being on the fall 2020 ballot made a lot of sense. Otherwise, if it was delayed until Fall 2021, the candidates running for mayor would have no idea if they were running for a ceremonial part time mayoral position or running to be the full-time highly paid managerial mayor.
George McKee proposed an amendment to set the Public Hearing for the August 18th meeting. Finally, Ted Leonard made a friendly amendment to McKee's Motion to set a series of three public hearings – one in June, one in July, and one in August – so that there could be a lot of public debate…in a timely manner.
The Assembly members approved Ted Leonard's plan. The votes were – everyone in favor except for Mayfield and Boeve. (Nowers changed her mind on this issue entirely without explanation.)
Why the timing of the "Strong Mayor" Ordinance makes sense:
Here is why the TIMING of the "Strong Mayor" ordinance/possible ballot question is actually very good. We are losing our manager. His last day is in early June. We have a Deputy Manager (George Hays) who will be acting as the Interim Manager. The Deputy could do this job for a while no problem as he has a lot of experience. Vern Halter's mayoral term ends in Fall 2021. So, if this ordinance passes, this "strong mayor" proposal will go to the voters this fall (Fall 2020.) If the voters vote for a "strong mayor" form of government, then Vern Halter can certainly act as the strong mayor for his final year. He is an attorney and he has been on the Assembly for many, many years. 6 years on Assembly and now he is in his second Mayoral term. Also, he is age 70 and retired (except for a summer sled dog tourism business) so he doesn't have a current full-time job he needs to attend to so he is available. (Also, later on during the May 5th meeting, Vern Halter said he would be willing and able to serve as a Strong Mayor during his final year in office but that he was opposed to a Strong Mayor form of Government for the Mat-Su Borough). Meanwhile, George Hays can be the Interim Manager until Halter takes over as Strong Mayor. THEN – if/when the public votes for a new mayor in Fall 2021, we will know and more importantly, the candidates will know, that we are voting for a Strong managerial mayor. And as a bonus – the MSB will avoid having to recruit and hire an expensive regular manager who may only end up working for one year if the "strong mayor" passes. Makes no sense to hire a new manager right now at all.
Mayfield is wrong that the Public is not interested in the issue of "Strong Mayor." This issue have been on the ballot in years past. It has long been discussed and debated, especially as the Mat-Su Valley has grown so much in population.
This item was posted on the Mat-Su Valley News group on Facebook as well as other local groups and it generated a LOT of discussion.
Here is a funny comment:
Hmmm…Bert Cottle is the current "strong mayor" of Wasilla.