A Christian movement, which some detractors have labeled a "cult," founded by Preacher Sam Fife in the southern US in the 1960s, has ties to the Mat-Su Valley and at least one prominent resident here.
This organization has been called "The Move of the Spirit," "The Move," the IMA or the International Ministerial Association, "The Body," the "Body of Christ," the "End-time Body-Christian Ministries," "The End-Time Ministry," and "The Movement."
"It takes a while, however, just to get members to tell me the name of their community," wrote reporter Douglas Todd in a profile of the group headlined "Peace River commune awaits imminent apocalypse" in the Sept 22, 2003 edition of the Vancouver Sun.
"The little-known movement, I later discover, has thousands more members in other corners of the globe, from Alaska to Uganda, Ireland to northern Mexico, Singapore to Brazil. Members initially say they don't really go by any name because they're 'non-denominational,' just like the early followers of Jesus Christ, who shared everything."
Here is the updated Vancouver Sun article about "The Move":
Awaiting apocalypse in the Peace River Valley
Here is the Wikipedia entry for Sam Fife:
https://en.wikipedia.org/wiki/Sam_Fife
Mr. Fife preached that the End Times were coming and that money would be no good and that people needed to live "off the land" in isolated areas. The headquarters for the movement continues to be the Bowens Mill Christian Center in rural Georgia.
Mr. Fife's followers started and moved to remote wilderness retreats in Alaska and Canada (among other places) in the 1970s.
These entities include:
The Covenant Life Center in Haines;
The "Mt. Bether Bible Center at Game Creek" located just outside of Hoonah;
Dry Creek (also called "The Land"), Whitestone Farms, and Eagle's Ridge which are three separate entities all located fairly close to each other near Delta Junction;
Sapa Christian Center located at Mile 13 Edgerton Highway, Kenny Lake/Copper Center (Note: My research shows that this farm/camp was sold a few years ago and the remaining members moved to the Delta area locations.)
There was a dairy farm up on Lazy Mountain in Palmer during the 1970s ("Wilderness Farms") that did not last very long.
The "Pioneer Christian Fellowship Church" in Wasilla (not a farm) also has ties to the original Sam Fife movement. According to some online comments, the Pioneer Christian Fellowship is not just a church, but also a "community" where people are living together.
Here is a picture of the Pioneer Christian Fellowship building:
Here is a list of "The Move's" affiliated entities from a 2012 Whitestone Legacy (Delta Junction) newsletter (from Vennie Kocsis's website):
NOTE: Alaska State Senator Shelley Hughes lived at the Mt. Bether Bible Center/Game Creek Farm with her mother and siblings from 1976 to 1981 according to her official biography. She moved there when she was aged 18 with her family members from the Canton, Ohio, area. More on the connection between Canton, Ohio and the Sam Fife movement a bit later in this blog post.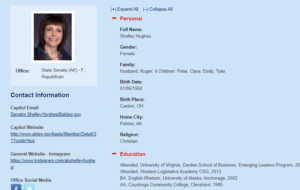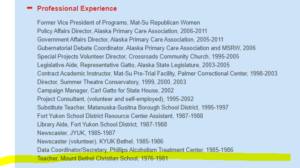 Sam Fife was killed in an airplane crash in Mexico in 1979 and his deputy, Carrell E. Cobb (C.E. or Buddy) Cobb, who was a commercial pilot by training, took over the leadership of "the Move."
BOOKS, BLOGS, ONLINE FORUMS, and DOCUMENTARIES:
Several people have written books and blogs about life on these remote Christian farms.
Tom Botts was one of the original members of the Hoonah group. He has a book and a blog – both titled "Wilderness Blues." He has mixed feeling about his time on the "Mt. Bether Bible Center" but he still attends their annual Thanksgiving reunion dinners.
https://wildernessblues.blogspot.com/
Here are some highlights from his blog: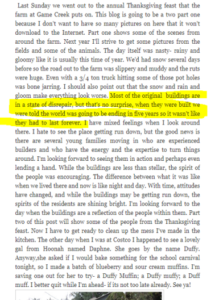 Vennie Kocsis has a book titled "Cult Child" and a blog – VennieKocsis.com. She lived on the Delta Junction farm and prior to that on one of the farms in Ware, Massachusetts, and she has strongly negative feelings about her time there. Her blog has a LOT of information and many pages about "The Move" and Cults etc. She has appeared on radio shows and written guest columns on other websites.
A History of Sam Fife's Move of God Cult
Cara Cobb, who was the daughter-in-law of C.E. Cobb, has just written a memoir of her decades with the religious group. She left the group after 31 years. Her book was published in 2018.
Richard Kiers also recently published a book about growing up on one of the farms in Canada:
Mr. Kiers is also featured in a People Magazine documentary that aired this past summer:
https://people.com/crime/the-move-cult-former-member-recounts-desperation-leave-cult-young-boy/
Here is another documentary – from 2006 – by Julia Pimsleur about her brother's experience at the Hoonah farm. It is called "Brother Born Again." FYI – I googled and Marc Pimsleur is now a doctor practicing medicine on the east coast.
MORE BLOGS:
Here is a blog post by a woman named Lisa Kendall who also left "The Move":
A woman named Glori Williams has a blog about her time as a child in "The Move" in Alaska at the farm near Kenny Lake/Copper Center:
https://venniekocsis.files.wordpress.com/2018/08/the-move-of-god-cult-presentation-glori-l-stiner.pdf
This woman – who goes by BABYGRAPES – grew up on the Hoonah farm and has a blog:
https://babygrapes.wordpress.com/
At the Hoonah farm, they did not celebrate Christmas as it was considered a Pagan holiday. They do celebrate Thanksgiving because that was simply an American tradition.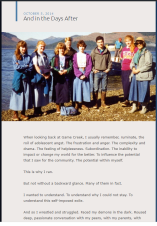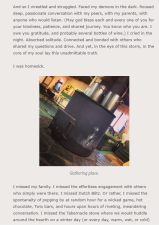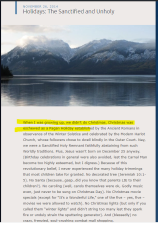 A woman named Suzanne McConnell who grew up on the Sapa Christian Center in Copper Center/Kenny Lake, is also a vocal online critic of "The Move." She wrote a fictionalized version of her childhood experiences.
She also wrote a comment on the (Wasilla) Pioneer Christian Fellowship Church's Facebook page in 2014.
THE CANTON, OHIO CONNECTION to Sam Fife's "The MOVE":
In the late 1960s/early 1970s, a Presbyterian Preacher in Canton, Ohio, named Milton B. Vereide left the Presbyterian church and started a new group which was part of the Sam Fife movement.
He was also involved in setting up a farm commune/religious community and Christian school outside of Canton which was the subject of several lawsuits.
Mr. Vereide eventually moved to British Columbia (likely one of the Move's farms there.)
Rev. Vereide was a fascinating man according to his obituary from 2008…
Note: Timothy Vereide and Constance Vereide have been listed as officers over the years for the Pioneer Christian Fellowship Church in Wasilla. And a Joshua Vereide is on the board of directors of the Whitestone Community Association (i.e.Dry Creek).
The Akron Beacon newspaper covered "The MOVE" rather extensively in the 1970s.
Here is a front page Sunday feature from October 1, 1972:
Here is an article in the Philadelphia Inquirer from September, 1974, about all the turmoil caused in North Canton OHIO by the "Move":
"The MOVE" held a large convention in Canton in 1976:
An anti-cult activist was present at the convention too:
Here are articles from the Akron Beacon dated 16 and 17 Sept 1975…A couple from North Canton, Ohio, Donald and Evelyn Arbuckle, were in a plane crash near Hoonah, Alaska. They were scouting for land for "a possible home for The Body, a religious sect that operates a school on the Arbuckles' Lake Township (Ohio) farm.
Donald Arbuckle perished in the crash, but Evelyn Arbuckle survived along with another woman, Amelia Hundley.
Evelyn went on to live a long life. Here is her obituary which explains her involvement in the International Christian Farm community – including the Haines and Hoonah farms.
She also lived in PALMER ALASKA and ran the Move's "Wilderness Farms" Dairy in the late 1970s…and then she ran a hospitality house in Anchorage affiliated with the same religious group.
Heather Lende, a well known Alaska author and newspaper writer and politician from Haines, also wrote a nice column on Evelyn. It is very interesting to note that Ms. Lende, who has been a resident on Haines for decades, had never been to the Covenant Life Center farm community before. "They are fairly private."
Here is an article in the Akron Beacon when Sam Fife died in a plane crash in 1979:
UPDATE. I posted this blog post on the Mat-Su Valley News Facebook group and a man named Jim Walters left a great comment explaining his time on the farm in Palmer:
NOTE: According to my research on the Alaska Recorder's office, the land which was the location of the Wilderness Farm run by Mary Evelyn Arbuckle under the name "Christian Ministries-Alaska, Inc." may now be owned by former MSB Mayor Larry DeVilbiss and his family.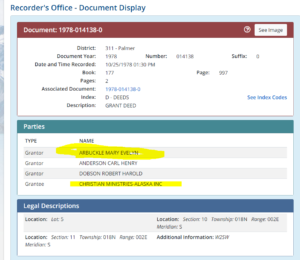 A conspiracy theory type blog post on Doug McClain who helped start the DRY CREEK group in Alaska: