This post explains how to look up federal tax liens.
Sometimes it is helpful to know whether or not a business entity or individual has any current tax liens against them.
What is a federal tax lien? This is from the Internal Revenue Service's website:
How to look up on federal tax liens on the Alaska Recorder's Office website:
Go to the State of Alaska website. Find the section for the Department of Natural Resources. DNR contains the statewide recorders' office. You can do a search of all filings by name. This will bring up all sorts of recorded documents – mostly pertaining to property – but it also brings up various types of liens and other UCC filings.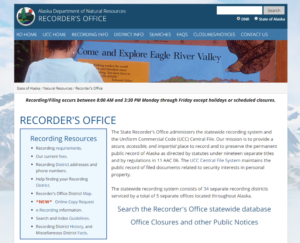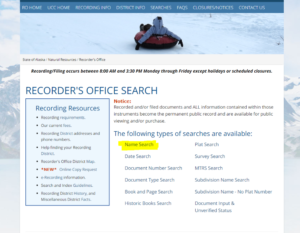 You can search for a specific person. For an example, I searched for Dr. Larry Lawson, the local oncologist who owns Midnight Sun Oncology, who has been in the news lately for his tax troubles. Here is the IRS tax lien from 2011 and also the release of the lien a few months later (i.e., he paid the IRS and they released the lien.) (FYI – if you are doing a search of liens, be aware that oftentimes a lien is released and is no longer current.)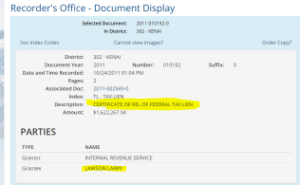 OR, you can use "Internal Revenue Service" as the name. This is a way to bring up all IRS liens without having to enter a specific name.
This will bring up thousands of results for all Recording Districts starting with liens filed in the 1970s in District 101.
However, you can narrow your search to a single Recording District and a single year. Just highlight and change the District and Year to the specifics you want to find.
District 311 is Palmer. District 301 is Anchorage. So, here are some results for the Palmer District for 2018.
Note: I won't share any names, but if you do this search, you will find some interesting results.